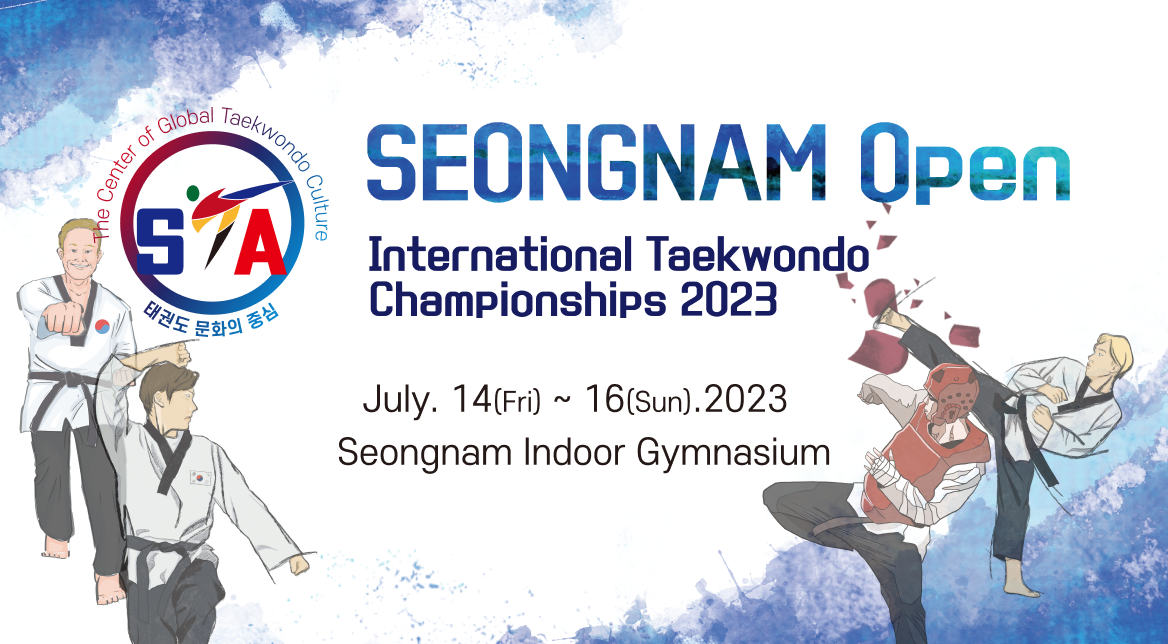 Kukkiwon or WT certificate holder or Taekwondo trainee ( collar belt )
○ Competition method
Individual (by weight class) Group ( by Group ) Competition
① Children Ⅲ / Cardet / Junior Division is divided into 2023 registered players (Group A) and non-registered players (Group B)
② Group A uses KPNP electronic protectors and electronic headgear
○ Sparring Individual Competition ※ Round Win/Loss
① Match duration 1 minute, intermission 30 seconds, per round Winner-to-win (Best of 3 matches)
② In case of a draw (tied win), 4 rounds ( golden point ) of 1 minute and 1 round will be held.
③ The winner of the 2nd round will be decided.
④ If 5 points are deducted between rounds, the round loser is determined.
⑤ The score difference round is determined by the score difference if there is a difference of 12 points.
⑥ Personal protective equipment (arms and legs, sapphodae, mouthpiece, back of the foot, back of the hand) must be brought
< If you do not bring it, you cannot proceed with the game>
Players in Group A must bring their own (KPNP instep sensor)
Body protection and head protection (headgear) are supported by the organizing committee.

※ However, the above information may be changed at the representative meeting.
Individual – Cardet / Junior
Group – Children / Cardet / Junior
○ Weigh-in the day before
July 15, 2023 (Sat) 4:00 pm – 6:00 pm ( No weigh-in on the day.)
○ Foreign competition Weigh in
July 13 (Thu)
○ Note
※ Weighing schedule may be changed during the representative meeting.
※ Men's briefs were worn during the weigh-in, and women's white tees and uniform pants.
※ Only women up to +400g are recognized
※ When weighing in, be sure to bring a small (only) certificate for domestic residents / foreigner ID card!!! bring
When less than 4 players in each weight class (division) participate, the match will be held as an integrated match.
Weight Class Chart (Individual)
Elementary
lower grade

Children Ⅰ

(2016~2015)
elementary and
middle school

Children Ⅱ

(2014~2013)
3-person Group event ※ Only individual participants can participate.
1) In the ChildrenⅢ division, it is divided into 1st and 2nd divisions by weight class.
2) Children part Male and female mixed (integrated) participation
3) Junior division is divided into male and female
4) Composition of 3 members in each group
Children Ⅲ Elementary 5th~6th grade
Pin, fly, bantam, feather, light (5 weight classes) combined 114kg
L welter, welter, L middle, middle, L heavy, heavy (6 weight classes) combined 171kg
Full class combined 186kg
Full-class combined 162 kg
Full-class combined 219kg
Full-class combined 182kg
Conducting Group Competitions for each division
2 rounds, 30 second break after 1 round, 2 rounds.

– 1st round match: 1 minute each designated player in numerical order (3 players compete in numerical order)




– 2 minutes of free substitution regardless of number




(Players can be replaced with a hand signal from the leader)




– If a player does not participate even once in the 2nd round match, he is disqualified.




– No restrictions on player substitution in round 2




– No upper score




– Additional 10 points for KO knockdown in the 1st round, provided that the KO player is replaced immediately.




– Play the next game If the Group is KO'd for the second time, that Group is declared the loser. End the game




– 2nd round KO → KO loss




– Deducted 20 points per Group Game ends with deduction




– If you cannot participate in the next game due to injury, start after giving 10 points




(If 2 out of 3 players are unable to compete due to injury, they will be disqualified)




– If the game is impossible due to a foul (1 minute), the Group that committed the foul ends the match with a foul loss.




– Golden Round (after round 2) The captain plays the game, and the first two scorers win.




– The game method and time may be adjusted at the representative meeting.


※ However, the above information may be changed at the representative meeting.
Inquiries